Detail: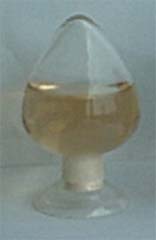 1. Molecular formula:NaOC2H5
2. Molecular weight:68.050
Index name

Value

Packing standard
Zinc plated bucket170-200kg
high strength plastic bucket170-200kg

Assay

18-21%

Free alkali

≤1%
3. Uses:
used in the synthesis and medicine
4. Characteristics:
It can get high concentration of Sodium ethoxide, low Free alkali , it can remove the impurities of alcohol types, therefore, concentration of Na2CO3in this method is lower than that of alkali method, it can get higher quality and yield.